32nd Parallel VIIC
-------------------------------------------------------------------------------------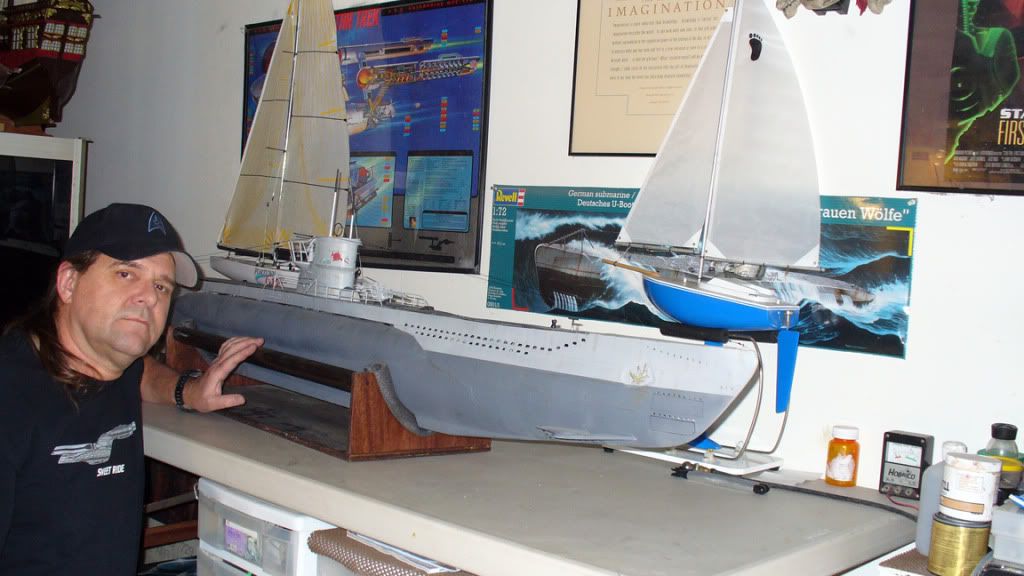 I have always wanted a large VIIC out of all the boats I could own for years. She has always been my favorite sub of all time!.
My good friend Matt Thor sent me this boat back in May of 2009. As found it had been partly constructed by the previous owner and then left sitting for many years. The construction was poor and who ever built it just walked away and shoved it into the rafters. There it warped over the years and many of the parts were lost. So when I received it it was in pretty bad shape.
My first task was to get the hull in shape. It had already had the water tight boxes installed so I opted to use those over a WTC as they would have been hard to rip out and I wanted to have a setup that was typical of the day when this model was first introduced back in 91.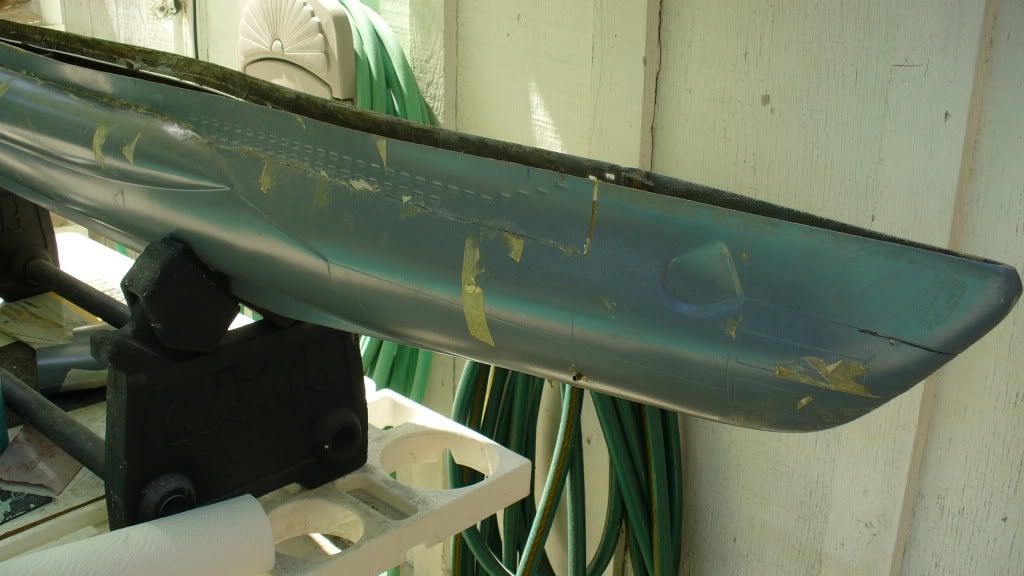 Here's another shot showing the poor condition. That tape must be 20 years old!
Now she's looking better. A little breaking and resetting the hull pieces that were glued out of alignment, some sanding and Evercoat metal glaze. The holes had been started by the previous owner but not finished at all as you can see.
The next thing I had to do was straighten out the many warps after sitting on it's side for 20 years I would guess. Lucky for me the old kit included the original deck. I was able to use this, a heat gun, and some formers inside the hull to get her back to true again.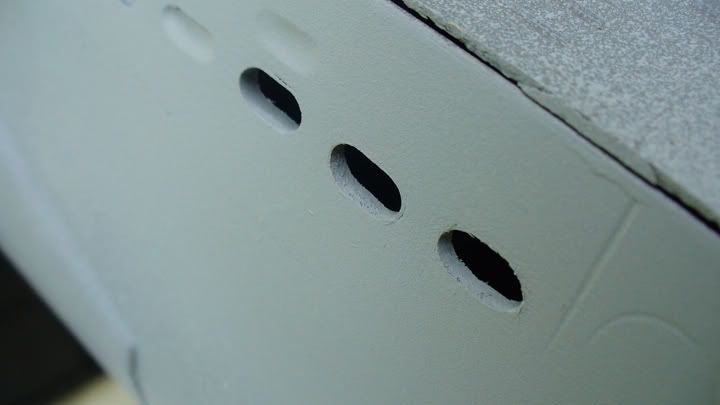 Next thing was to fix the already started limber holes. I needed to make the the same so I pounded and formed some aluminum tubing to a tool shape. Then filled the existing holes with Evercoat metal glazed and placed the aluminum inside until it set and removed.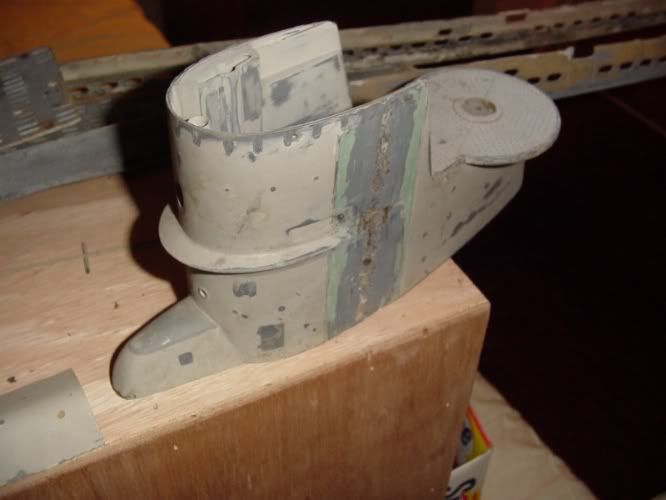 My friend Lyle Price was in the process of restoring and another old Parallel VIIC and watching his thread on SubPirates I noticed that he opted to replace the old original control tower with the new OTW 1/32 control tower, I asked him for the old one. He tried to convince me it was too far gone but I asked for it anyway and this is what I got. It took me a few days but I restored it to original condition.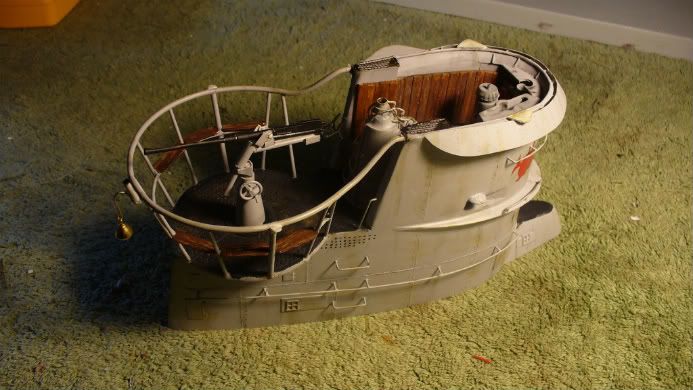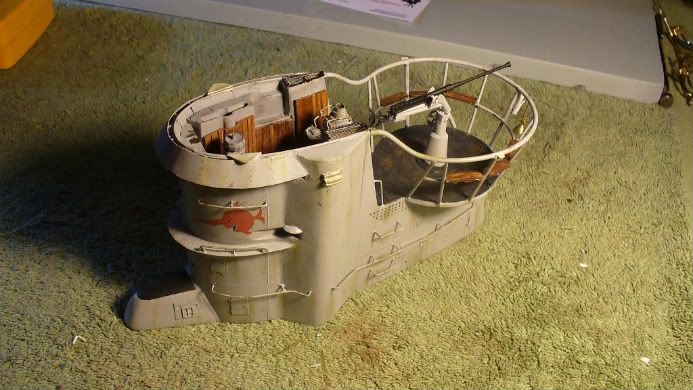 After much part making and brass work here's the finished and restored tower.
I made two scale props from scratch and finished off the dive planes and rudders that were included in the kit.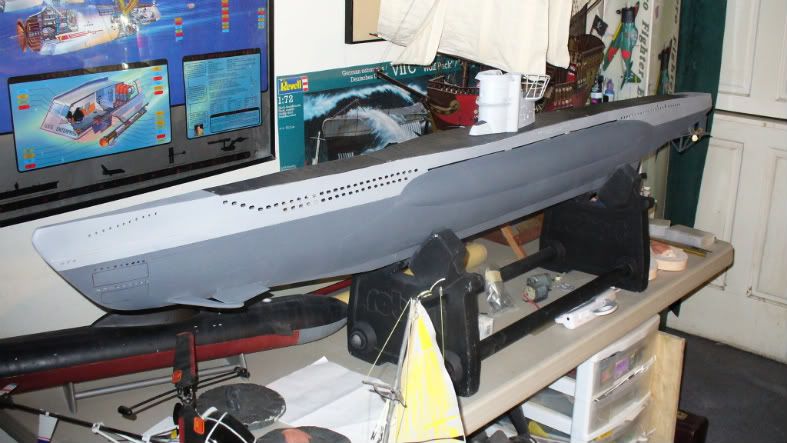 Bow planes are attacked and the guards. Next I finished off all the railing and small deck parts. Not to mention drilling out 100s of holes on the deck. Not seen here are the many drains and limber holes I had to drill. My lease favorite part of a build.
And here she is in the above pictures nearly finished. This took two months in my spare time.
Currently I have installed the water tight boxes and electronics and running gear. All systems are working. I have yet to finish the ballast system as I wait for parts to arrive from my good friend BigDave of BigDave designs. http://www.frontiernet.net/~bwelch/
Soon I'll post pictures of the install and a video of everything working.
Update
I have had good pool trials and recently a lake run. Only trouble is the lake was too shallow to dive. I looking for a big public pool next.
Here's some video and pictures.